Custom Printed Cosmetic Boxes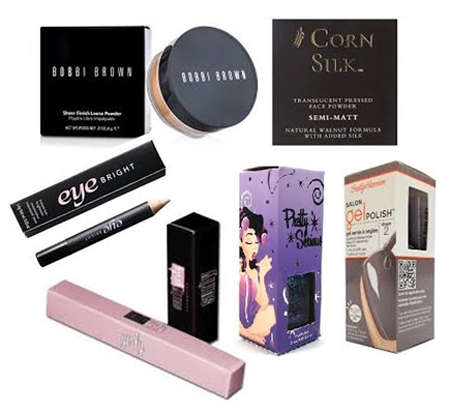 QUICK OVERVIEW - Cosmetic Boxes
Cosmetic Boxes
with full color printing process 14pt,16pt,18pt and 24pt card stock with glossy or matte lamination.
Free Shipping
Simply complete the form below and Get Price Quote right away.
Cosmetic boxes are essential item for ladies of almost every age. Every single departmental store is occupied with beauty and cosmetic boxes that are used for packaging of fragrances, make-up products, shampoos, lotions, facial products, lipstick products etc. These boxes make beauty products more appealing and clutch customer's attention instantly. In order to increase sale and to gain more customers, product packaging plays a dynamic role. It's impossible to increase product sale without its proper packaging.

Cosmetic packaging boxes are important for those companies who deal in cosmetic products. They can't
sale their products without having these boxes. These boxes carry essential details concerning product
and company so it is playing a role as marketing tool. High quality aids in promoting your brand

Following features add stylish touch to cosmetic boxes mean while these enhance chances of your product sale:

● Customization: You can customize shape, size and design according to your products outline
● Printing: Full color printing ( usually CMYK/PMS printing process is used) using vibrant colors
● Logo: You should have your company logo along with unique product logo
● Design: Create a unique design that showcase worth of your company
● Quality: Use premium quality card-stock i.e 16pt or 18pt
● Lamination: Gloss and matte lamination make cosmetic boxes more durable
● UV coating: Spot UV coating for additional glow
● Tagline: Print a catchy tagline to get attention from your target customers
● Printing: Brand your product with proper printing. We offer you best printing solutions
Custom Printed Cosmetic Boxes, Cheap Custom Cosmetic Boxes, Online Cosmetic Boxes, Cosmetic Boxes Printing
Stand out with custom cosmetic boxes:
In order to stand out from rest you need to package your makeup products in such a manner that can best represent your style. Go for customization in order to fit your unique brand. You can package your products in any shape and form that you desire of. You can customize size shape and style of cosmetic boxes according to product framework. You have a wide variety of lamination option like aqueous gloss, matte and Spot UV lamination that makes your product more durable, shiny and make these boxes weather and tear resistant

Be sure to have superior quality cardstock because ladies usually used to keep these boxes at dressing table in order to save their cosmetic products and to enhance beauty of their rooms. Low quality will bring negative impression and customer will prefer not to use your product next time so don't let your business compromise with low quality. Use heavy weight card-stock material with vibrant color printing that leaves a strong lasting impression on prospective customers. Usually 16 pt and 18 pt cardstock is used

Cosmetic boxes: a way of brand expansion:
Cosmetic boxes usually carries company's name along with logo that plays a key role in promoting your brand. It's an ideal ay of expanding your business and let people know about services you are offering

Turn your vision in to reality by visiting www.cheapcustomboxes.com .We offer you excellent cosmetic packaging boxes and printing services in cheapest rates. We assure high quality. You can get your order in 7 to 10 days along with free shipping. Don't hesitate to contact us. Our online team experts are available for you round the clock.
Makeover with Custom cosmetic boxes

To sell cosmetics in more reliable and vast way cosmetic boxes are more likely to use. These boxes are available in different sizes and shapes to make it use easily. Although these boxes are made stylish but they have the capacity to hold items inside firmly and give an easy way to handle.

Why cosmetic boxes are made elegant?

Due to the reason of use of cosmetics every day and the nature of person to try every time a new branded thing like in case of shampoo, soap, creams etc these boxes are made attractive and classical to show more branded products inside.

Which features should be present in these boxes?

. Style should be unique to present traditional things in new ways
. Design of the box should be highly amazing
. Theme should be colorful and represents the product inside
. Light in weight as it is subjected to use in daily life
. Front cover should be laminated gloss
. Box should contain information and precaution about the products that give it a branded look
. Logo must be printed on it

One important point that should be kept in mind is the theme use, look decent and elegant and not so massive to enhance the product visibility. Attractive look cosmetic boxes not only act as a good packing material but also a wonderful tool for marketing the products.

Some common style of cosmetic boxes use is as:

. A box made of cardboard use to hold one item with clear window
. Box with multiple item capacity with or without window
. Die cut box with overlapping flaps
. Box with different steps use to place on market shelf or dressing tables


Cosmetic Boxes Related Products