Custom Printed Perfume Boxes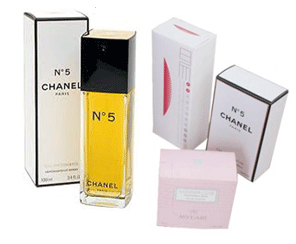 QUICK OVERVIEW - Perfume Boxes
Perfume Boxes
with full color printing process 14pt,16pt,18pt and 24pt card stock with glossy or matte lamination.
Free Shipping
Simply complete the form below and Get Price Quote right away.
Perfume boxes
are used to present the perfume in an elegant way. These perfume boxes are also used to secure your product from any damage. These also make a good image of your brand. You can differentiate between a branded company and a fake one by these perfume packaging boxes as these carry the company logo and other particular information on them. Stylish
perfume packaging boxes
are used to present your gift in a unique way. The one receiving the gift will get very excited by looking at its awesome packaging. So it leaves a strong and an everlasting impression on your customers.
Following features add stylish touch to perfume boxes meanwhile these enhance chances of your product sale:
●
Customization:
You can customize shape, size and design according to your products outline
●
Printing:
Full color printing ( usually CMYK/PMS printing process is used) using vibrant colors
●
Logo:
You should have your company logo along with unique product logo
●
Design
: Create a unique design that showcase worth of your company
●
Quality:
Use premium quality card-stock i.e 16pt or 18pt
●
Lamination:
Gloss and matte lamination make perfume packaging boxes more durable
●
UV coating:
Spot UV coating for additional glow
●
Tagline:
Print a catchy tagline to get attention from your target customers
●
Printing:
Brand your product with proper printing. We offer you best printing solutions
Custom Printed Perfume Boxes, Cheap Custom Perfume Boxes, Online Perfume Boxes, Perfume Boxes Printing
The design of perfume boxes signifies how valuable the gift that is kept inside of it is. Using customizing option for perfume boxes is very advantageous. It helps in customizing the design of perfume packaging boxes as per your needs. With the advancement in digital technology, people are shifting towards printing services that provide online customizable design of perfume packaging boxes. You can customize size, shape, style and even the design of
perfume packaging boxes
exactly according to your needs. You have variety of finishing options available like matte lamination, aqueous gloss lamination and spot UV coating. Finishing makes your perfume boxes more durable, make them resistant from wear and tear and keep them from fading of printing on them.
Online printing is a cheap source of printing. You do not have to put burden on your pockets and there is free customization service via online printing. You just need to scroll through the web for online printing company that meets your printing and packaging requirement at low rates for perfume boxes. You can also upload your own artwork for perfume boxes. Online companies are here to print your artwork in unique pattern that assists to clutch the attention of prospective customers. Select paper quality and finishing options for your perfume packaging boxes. Get a preview of perfume packaging boxes so you can make amendments to create your artwork in the best way.
We the cheapcustomboxes.com is an online printing company offering you every kind of packaging and
printing solutions for perfume packaging boxes at the lowest possible rates in USA. We do not compromise on quality. Online customization of your
perfume packaging boxes
is provided free of cost. We offer 100% satisfaction to our valuable customers like you. You can contact us at any time.
Fragrance comes in Custom perfume boxes
Aroma is the need of the world. It is equally appreciated and use among boys and girls. Perfumes are a common and beautiful gift to represents the feeling so with this respect perfume boxes are of great importance.

Why these boxes are made highly perfect?

As perfumes are very delicate items to use and have aromatic in nature. To preserve its fragrance and made it show safely these boxes are made with special attention.

Why these boxes are made fancy?

Packing performs a vital role in case of perfumes. As its first looks gives the long lasting impression. Perfumes are mostly use to gift others or to show on dressing tables, shelves etc. to make other fascinated with these the boxes are made fashionable with different styles and themes. Luxury style boxes give a very good presentation.

How these products become more marketable?

The material mostly use is smooth but hard cardboard. The boxes are made colorful with combination of quality colors like CMYP/PMS. Unique graphics or artwork is printed on these boxes with bright color to make attractive. Finishing options are then applied like gloss lamination with water or oil proof lamination to make it weather resistant. To make them looks more professional company logo, product name and description are printed on them which give more market to your product. UV spotting gives more clarification to printing and reliability to box. Sometime corrugated die cut sheets are inserted to give high order strength.

Why details are need to be printed on boxes?

If you want to give your product more branded and up to date looks then it is needed to pint product details, company contacts, uses and precautions. As it grabs more attention and thus enhance the rating of the products.


Perfume Boxes Related Products